Slide 1
Overlap Garage Doors
Overlap garage doors are unique, they open vertically up on a trackless system, wide range of designs, colours and glazing options to create the perfect door for your home.
Trackless, Secure and Insulated
Most types of garage doors have been around for a number of years and although their mechanisms have been refined somewhat over time, they have remained reasonably unchanged. The overlap 'trackless' sectional door from Delta, however, is a fairly recent innovation in the garage door industry and offers a very compact solution whilst providing all the benefits of an insulated sectional door.
Virtual Showroom

Popular Overlap Designs
The overlap door is available in natural timber or steel finishes and is constructed from 75mm thick multi-ecowood panels, providing extremely high levels of both thermal and acoustic insulation. Overlap doors are available in a large range of sizes with 12 design options covering traditional vertical styles to contemporary geometric designs.
Overlap Colour Options
All the design options in the overlap product range are available in a large number of exclusive finishes. These include Okoumé, Northern Spruce, Oak and Larch natural timber finishes and a wide range of paint colour options. The Duo, Emi and Six designs are also available in Steel finishes with a number of colour and timber effect options.
Trackless System
The overlap garage door features two door panels and a 'Silmotion' automatic operator embedded in the head bar. The insulated sectional panels fold in half, then the lower panel slides underneath the upper panel. This means that there are no tracks or door going back into the garage, which is not only very neat and tidy, but also means you still have full access to the roof space. It can also be particularly useful if there are any obstructions, such as internal doors or utility meters that may prevent the installation of a tracked door.
Maintenance Free
Overlap garage doors are maintenance free and don't need to be repainted and stand up to the harsh weather conditions.
Matching
Overlap doors are available with a full range of matching product options. These include window and glazing options along with a range of discreet ventilation ports. Silvelox also provide matching cover boards and transom panels.
Warranty
The Silvelox overlap garage doors come with a 5 year warranty on the door finish and a 10 year warranty on the door.
Automation
Both manual and fully automatic overlap doors are available. An automated overlap door features Silvelox's unique Silmotion operator technology. The operator mechanism is contained with the overlap headbar which means there are no tracks or operator boom arms projecting back into the garage. It also means that the overlap doors clean and elegant appearance is the same on both the inside and outside of the door.
Emergency Release
In case there is no other way into the garage we will install a manual release to access the garage in case of an emergency.
Overlap Brochure
Discover more technical information, styles, designs and door accessories through Overlaps garage door brochure below.
Raising Standards, Advancing Safety
We're members of the Door & Hardware Federation and comply with the latest advice on safety and standards.
Reasons to choose Overlap garage doors
Overlap garage doors are very compact, secure and offer great levels of thermal insulation. The automation system has been developed to sit inside the frame, keeping it from plain sight. The trackless system is very convenient and saves space inside the garage. The door is a bespoke product, from custom sizes to custom finishes such as glass, wood and steel. Choose from any RAL colour and the door comes with a 5 a year warranty.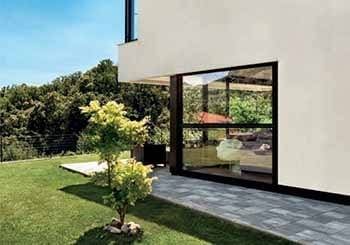 Security and Safety
Silvelox have developed a number of patented features that are exclusive to the overlap product. A unique locking system featuring spring loaded locking hooks and dead bolts provides extremely high levels of security. Silvelox have also developed a number of safety features including their 'anti-trap' safety mechanism that provides complete finger trap protection.
Slide 1
Don't forget we supply and install matching front doors to compliment your garage door, find out more below